Living in a condo or a small house with a new baby can be challenging if you don't do it right! It's really easy as a first time mom to get caught up in all the gimics and cool gadgets that flood our social media streams (I'm a sucker and buy everything). What is really necessary and what really helps save space? Here are my top 5 recommendations to make condo living with a baby a breeze.
1. Leave toys in boxes until baby is old enough to use them - and keep the boxes for later!
It's so tempting when you receive gifts for baby to rip them open and assemble them in anticipation of using them. Baby is 2 months now and the toy says it's good for babies 3 months+ so assembling it now will save time right? Perhaps... but it will also leave your rooms feeling cluttered and make you feel like you're missing space. Boxes are more easily stacked and hidden under cribs, in closets and in storage rooms than assembled toys are. Babies also develop at different rates, so a 3 month+ toy may only interest your little one at 4 months or maybe even 5 months. Moreoever, by the time your little one is ready to use this new toy, you may be able to put another one away! We recently got a Jumperoo as a gift and when assembled, it will measure about 3 feet long x 3 feet wide and 3 feet high, whereas the box fits perfectly under baby's crib.
I also recommend keeping the boxes for certain items so that you can easily store them when baby outgrows them. A couple great examples are your baby's infant car seat and vibrating chair. They are awkward shapes and will take up a lot of room in your storage unit or garage and may even get damaged unless you put them back in their box.
2. Toy boxes and decorative storage bins should be your best friend
If you live in a condo or small house, chances are you don't have the space for a designated play room. As baby grows, toys, blankets and books will slowly invade the common living areas in your house so storage bins are a great way to keep the clutter off the floor. It will also save you from having to run from room to room trying to clean up toys all the time. Toy boxes are great for baby's room and they can double as a bench or reading nook when baby gets older :)
3. Units with drawers are more practical than ones with hangers
When looking for a dresser or extra piece of furniture for the baby room, I can't stress enough how much units with drawers and cupboards have saved our life. I was a bit apprehensive at first because who really wants to fold baby clothes, blankets and bibs, but they have been the secret to keeping my sanity! I have filled my drawers and cupboards with bins and baskets that leave me feeling as though there is organization amongst the chaos. There's a bin for baby's toiletries, a bin for cloths, a bin for burp towels, and bin for diapers etc. It also means that there is no wasted space and no need to buy teeny tiny hangers for baby clothes. Moreover, when I have a screaming baby and need to put things away fast, drawers conceal the mess until I have time to go back and put things away properly :)
4. A collapsible baby bath tub is a must
Baby bath tubs take up SO MUCH space and when you live in a condo and are struggling as it is to find somewhere to put everything, compact is essential. We found an amazing collapsible bathtub by Boon called the NAKED bathtub that is great for infants and toddlers. It has two positions (incline and regular) that make it easy to use for parents and safe for baby. It also has a hanger built in so it can drip dry from your shower when you're done using it! I've included some pictures of it below! Another alternative is to give baby a bath in your sink, however depending on how big your baby is and how big your sink is, this isn't always an option.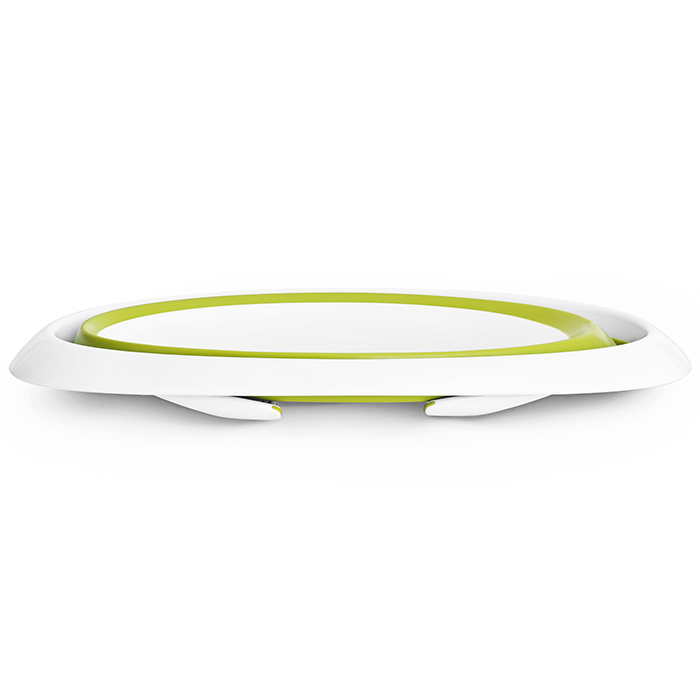 5. Resist the urge to buy everything all at once for baby
It's a totally normal feeling to be so excited for the arrival of your new baby and to want to be overly prepared - especially when the nesting urge kicks in. But when living in a smaller space, I don't recommend stocking up on things that baby won't need for the first new months. Just as I recommended leaving toys in boxes until they will be used, I recommend buying items as you need them because other items will be able to be put away. An example in my life is Zane's rocking/swinging chair and a Play Yard. Both, I believe both are necessary and super helpful, however at Zane's age now, he uses the MamaRoo on a daily basis whereas he's too little to use a Play Yard - he can't move anywhere yet so I don't need to keep him confined. Instead of having both set up in my living room (which would take up a lot of room), once he outgrows the MamaRoo, I'll go and buy a Play Yard and put it where the MamaRoo currently is!
I hope this short list will help all you mamas! I could go on and on with space saving tips, but I'll save a few for a later date! Don't hesitate to reach out to me and let me know if you have any tips or questions. I would love to hear from you :)
xox Tovah
If you enjoyed this blog post, follow me!
Follow